Work has now started on the 36,000 sq ft for Vacgen on Phase I of the Swallow Business Park on the A22 at Lower Dicker, Hailsham.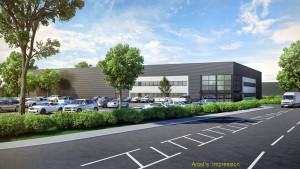 Work is due to shortly on the speculative units in Phase II, Block E, the northernmost block. This will provide one unit of 4,812 sq ft, one of 6,426 sq ft + ten units of 1,572 sq ft. These will be brand new buildings with a very good specification, built to the latest insulation standards and with a roller shutter door, personal door, windows at 1st floor and a small office.
There is good parking and loading. It is anticipated the first units will be ready for occupation in Dec 2016/Jan 2017. Rents will be £8 per sq ft pa for the standard specification. Thus for a 1,572 sq ft units the rent will be £12,600 pa. for a brand new building. At this stage any tenant's specific requirements can be incorporated subject to negotiation. So a great opportunity.