Chris Lawson, partner of Lawson Commercial reports his thoughts on the commercial property market through 2017:
2017 has been an eventful year following the UK general election and the unexpected result. This, combined with the ongoing speculation regarding Brexit discussions meant that business confidence became more cautious as the year went on. Despite this, in our region there was strong demand particularly in the industrial  sector.
Interest has been good at the Ashdown Business Park at Maresfield.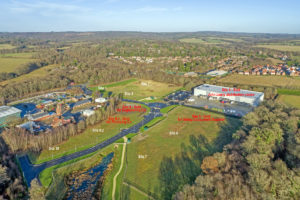 Site 5 was finally sold being acquired by Gunnebo Entrance Controls Ltd for their new headquarters building. Construction is now at an advanced stage and Gunnebo hope to be taking occupation in Spring 2018. Site 9 was split into two and half was sold to an Edenbridge plumbing company for their new headquarters building.  Currently there are several offers under consideration for a combination of Sites 1, 2 & 3 all of which will be subject to new planning permissions. They include interest from a pub restaurant operator, a budget hotel and a drive-thru coffee business.  Lawson Commercial also have strong interest in Sites 6 & 7 and a sale has been agreed for both sites to a single business who will be varying the existing planning consent which is for over 20,000 sq ft of offices. If this goes through to completion construction work should start there in the Summer of 2018. Thus there is now not much land with planning left here for sale.
Another significant Lawson Commercial deal was of Gunnebo's existing premises on the Bellbrook Estate at Uckfield.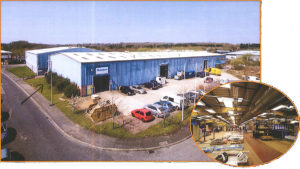 Lawson Commercial acted for the successful purchaser, a manufacturing company from West Sussex, who acquired this 30,000 sq ft building and will be taking occupation when Gunnebo finally relocate to the Ashdown Business Park. During the course of 2017 Lawson Commercial also relocated Westminster Teak from Westminster House in Bolton Close into Birch House on Brambleside, a unit of some 16,000 sq ft including some 1st floor offices which has undergone significant refurbishment.
During the course of the year Lawson Commercial additionally handled a number of smaller lettings including 5,000 sq ft at the Enlightened Business Park at Palehouse Common on the outskirts of Uckfield to Alliance Boots as well as 5,000 sq ft at Holbein Place on the Bellbrook Business Park to pharmaceutical company Waremoss Ltd. Despite all the political uncertainty the strong demand for industrial units is giving rise generally to a shortage of available space for businesses to consider.
Lawson Commercial have found that, despite the growth of online internet shopping there was still plenty of demand from people wanting proper retail premises and there were a number of deals concluded during the year in Heathfield, Uckfield and Crowborough. Some interesting and innovative businesses opened including a specialist guitar shop in Church Street Uckfield and a vaping and mobile phone shop for Heathfield. Good to see also that an established estate agents in Crowborough have expanded into larger and more prominent premises.  A new jewellers has moved into Uckfield High Street shortly to be followed by a branch of Subway.
The demand for offices was not as strong as had been expected although there wasn't a huge amount of supply either. The demand for high quality refurbished farm buildings remains strong with the three new suites created at Glynde by Glynde Estates quickly finding new tenants.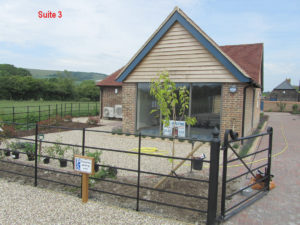 However enquiries for the more rural locations are still extremely sensitive to good broadband which for many parts of rural Sussex continues to be a major problem. Notable transactions concluded by Lawson Commercial included the Childrens Respite Trust acquiring premises in the heart of Uckfield High Street for their new day centre and administration centre together with a new children's day nursery opening in Falmer Court in London Road, Uckfield.
In summary overall 2017 was very similar to 2016 being a good, solid year with some evidence of business hesitancy. Although business is not exactly booming several businesses saw opportunities for growth although the big limiting factor particularly in the industrial sector is the shortage of units. As we have been saying for some time local businesses have problems in expanding and there is a shortage of opportunities for businesses from outside the area wanting to relocate because of the shortage of space. With huge amount of housing proposed over the next 10 years there needs to be a political will locally to make more sites available for commercial development. No longer can councillors say there is always Ashdown Business Park for north Wealden because there is now little left there. If business is to continue thriving in this area and provide employment for the increasing population more thought needs to be given to providing room for business expansion.