Lawson Commercial are pleased to announce that the developers of Portland House in Framfield Road, Uckfield are to complete the fitting out of the ground floor offices shortly.
Since the flats were completed on the upper floors the offices have been in a basic shell form but are now to be finished which will involve installation of combined heating/cooling units, cloakroom & tea station facilities, carpeting, and decoration with some remodelling of the space to create 4 suites. each of around 800 – 900 sq ft.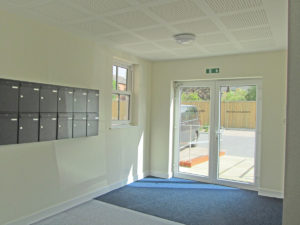 We were very pleased at this news as we are short of good quality offices in Uckfield and this is brand new space within walking distance of the railway station and town centre. Already we have strong interest and hope that at least one of the suites will be under offer very shortly.