Chris Lawson reports: What a night Saturday night with another very successful Uckfield Carnival.  Well done to the Uckfield Bonfire & Carnival Society for organising such an amazing event.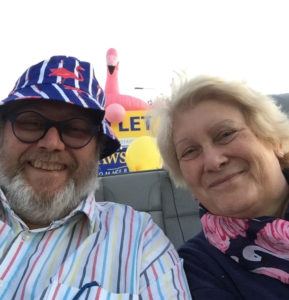 Julia and I have been attending the Carnival celebrations for many years and have been involved in floats on several occasions initially as part of a Chamber float and more recently as Lawson Commercial.  Following the success of our inflatable swan last year this year the star was a giant pink flamingo. Getting her ready for her appearance on the High Street took most of Saturday so that she was ready for the off by 6.30pm as the float procession assembled in Bell Lane – together with a more scary participant.
There was an amazing turnout lining the High Street, Newtown and all round Framfield Road. Sorry if we didn't wave at you but the crowd was so large it was difficult to spot everyone. It was great to see so many families and small children as well as quite a few dogs enjoying the procession.  It was particularly good to see the delight on children's faces when they spotted our pink flamingo. Unfortunately Toffee and Cleo had to stay at home as there was no room in the car.
Although starting initially in daylight by the time we had joined the foot procession coming down the High Street, wound our way up Newtown, round the Framfield Road area and back up the High Street it was fully dark making the lights more effective. After a turnaround via Downsview Crescent and Browns Lane we were ready for a return down the High Street to finish in Bell Lane.
There was brief pause out the Cinque Port Club  for the remembrance of those Uckfield people who died in the First World War including the extinguishing of torches and prayers led by Father John which was particularly moving and a fitting tribute. It was nice for us further back in the floats to be able to follow this via a live feed from Uckfield FM Facebook.
Well done also to Uckfield FM for their broadcast throughout the evening. It is amazing what modern technology can do. We were pleased to have played our part in a really excellent evening and I understand a significant sum was raised via the street collection.