We are delighted to announce that Bride Hall Developments, having secured the last 2.7 acres available at the Ashdown Business Park at Maresfield, Nr Uckfield have agreed terms with M&S Food and Home Bargains for two new, 20,000 sq ft stores on a subject to planning basis.
This is tremendous news for the town of Uckfield which has wanted another supermarket for some years and to have one of the quality of Marks & Spencer is superb. 
These two external pictures are generic drawings of M&S Food and are subject to planning and detailed design.
These internal photographs are of the M&S Food unit at Hedge End in Southampton which is a slightly larger store but gives an idea of how the layout will work.
Home Bargains is a chain of 570 discount stores started in 1976 by Tom Morris.  Currently they only have branches in Tonbridge, Eastbourne and Edenbridge.  It's a family run and owned business whose philosophy is to sell branded goods at the lowest prices possible.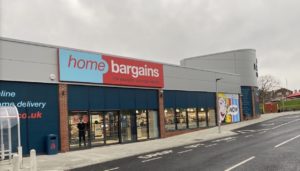 Our Partner Chris Lawson who handled the negotiation said "This is excellent news and great for the area to have both these companies.  These will be the first store for each company in Wealden.  It is anticipated that M&S will create some 50 jobs and Home Bargains 70 full and part time jobs."
Discussions are ongoing with Wealden District Council.  The pre application has been submitted to East Sussex Highways and a formal pre-app will be submitted to Wealden Council this week. Bride Hall Developments will be holding a public consultation in Uckfield town centre at the end of June/beginning of July where there will be presentation boards and representatives from Bride Hall Developments and Marks & Spencer.  The actual date and final venue will be published nearer the time. 
It's anticipated that the formal planning application should be submitted by the end of July and assuming that planning permission is not unduly delayed, it's hoped that work can start on site by the end of the year with a view to having the M&S supermarket open towards the end of 2022.