Lawson Commercial were very pleased to be one of the sponsors for the Uckfield Festival this year and our banner was displayed above the Events Marquee. We were happy to support the Festival, running in a reduced form for this year having been cancelled last year.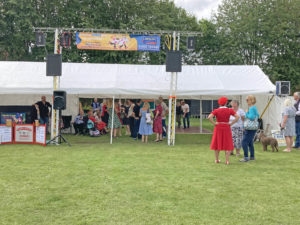 It was good to see so many stalls on the Field on Saturday despite the rather inclement weather. Sunday was a much better day with the Classic Car Show having over 100 vehicles on display.
Local MP Nus Ghani, who is a keen supporter of the Historic and Classic Vehicle Alliance, came along and is pictured here with one of our partners Julia Lawson with the Lawson 1983 Scirocco.
It was a great day out with many people attending. There was plenty to look at, not just for classic car enthusiasts and the Mayor and Spiderman made an appearance on a high platform to liven up the Event.