To acknowledge the Queen's Platinum Jubilee Lawson Commercial have decorated the area outside their office in Cornford's Yard just off the High Street in Uckfield.
A flag with a picture of the Queen adorns the wall leading down to the High Street and
bunting has been strung along the wall and around the building.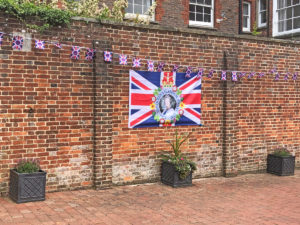 We see this as a truly momentous occasion that we should celebrate and not something that we will see again in our lifetimes. The Queen has given tremendous service to the Country over very many years and she and the Royal Family are a great asset to the UK. She deserves our thanks and celebration for what she has done so we have done our small bit towards this.