The owners of the Ridgewood Post Office & Stores in Lewes Road, Uckfield have decided to retire and have put their business up for sale. Not only does the sale include some 500 sq ft of shop and store but also a delightful 3-bedroomed  cottage with conservatory and garden.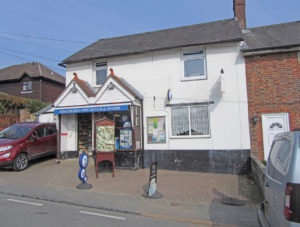 The property is really a mini convenience store with the benefit of a post office outlet. It is in an unrivalled position as, already in a good residential area,  it is going to be the closest shop to the new Ridgewood Farm residential development where a 1,000 new houses are due to be constructed. Wimpey are already building the first 250 homes and there will be a direct access from that development to Lewes Road close to these premises.
There has reputably been a post office and general store on this site for over a hundred years and the current owners have owned and run the business very successfully for over 30 years. Full information regarding turnover is available together with accounts to seriously interested parties. In addition to the post office the mini convenience store includes a Lottery outlet, off-licence, agency for Pipers News, coffee machine, photocopying facility and a wide variety of locally sourced goods such as bread, pies, fruit & vegetables.
This is a really first class business opportunity for an owner occupier with a family. The price is £480,000 for the freehold to include the business with stock at valuation.
For full information contact Lawson Commercial.